Alternative propulsion technologies and innovative assistance systems: perspectives for emission-free shipping?
14.06.2018 Oldenburg Event of the competence center GreenShipping Niedersachsen
We gladly accepted the invitation because new ideas and concepts in the field of propulsion technology open up new project and product ideas. After an introduction by Dr. Ing. Neumann & Mrs. Baumann and following a very informative and entertaining lecture by Mr. Malte Zeretzke, DNV GL on Green Shipping followed the presentation of two projects, "GreenSailer" and "greenMEPS".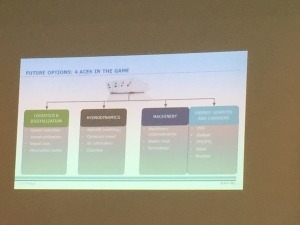 After lunch, then confrontation with the projects in small groups, finally presenting the results in plenary.
Invitation and program for your information
Good format! We look forward to more exciting topics and lectures.